How to Convert Repeating Decimals to Equivalent | Common | Vulgur Fractions | Shortcut
It sounds as if you know that, and are looking for something quicker. For simple cases, it can be done without going through all the work.
CASE 1:
If the repeat starts right after the decimal point, you can just divide the repeat by as many 9's as there are digits in the repeat: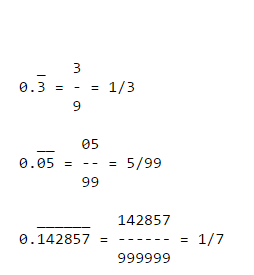 Compare this with the normal method, and you should quickly see why this works: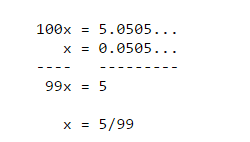 Case 2:
When the repeat doesn't start just after the decimal point, you can move it there, do the conversion, and move it back: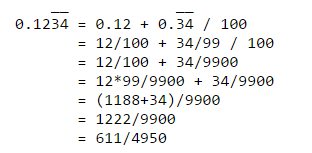 As you can see, once you have to do this, you might as well use the usual method:
Video Tutorial :
Suddenly this doesn't seem so hard, does it? Lets Have A Video Tutorial :) You may need a proxy to watch this video as it is uploaded on Youtube.